List of painters by alphabetical letters :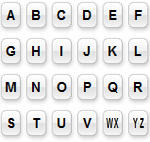 Welcome to the gallery of Pierre-Auguste Renoir (1841-1919)

Pierre-Auguste Renoir was a French artist who was a leading painter in the development of the Impressionist style. As a celebrator of beauty, and especially feminine sensuality, it has been said that "Renoir is the final representative of a tradition which runs directly from Rubens to Watteau". His work is characterized by a richness of feeling and a warmth of response to the world and to the people in it. His early works were typically Impressionist snapshots of real life, full of sparkling colour and light. By the mid-1880s, however, he had broken with the movement to apply a more disciplined, formal technique to portraits and figure paintings, particularly of women. Renoir was so passionate about painting that he even continued when he was old and suffering from severe arthritis. Renoir then painted with the brush tied to his wrists.

---

Discover our multiple reproductions of this talented painter (list not restrictive).
Also consult the gallery of the artist who abounds in multiple choices.

• Products in this category...
• Products in this category...
93 items for sell
NEED AN ADVICE ?

CALL US TO:

Tel: (+33) 0970 465 798

---

NEWSLETTER

---

Secure Payment